Main content starts here, tab to start navigating
Stories behind our menu...
At Savory we say that our menu, and indeed Savory, is inspired by our family, friends & travel - and the dining experiences connected to all of those. Whether it is Stefen's Italian heritage - most notable in his family's flavorful tomato & meat sauce; or the tin of "Hello Dollies" from Ron's mom that arrive every holiday season; or his high school years in Germany that inspired our rouladen & homemade spaetzle special. Over time we have decided to add to the dialogue by giving our guests a little more of the story behind each dish. So, here goes...
Mafalda Carbonara
Growing up in the Des Moines area near SeaTac airport it was always an adventure when Stefen's family would head to downtown Seattle. Inevitably they would visit the Pike Place Market - especially DeLaurenti's Food & Wine Store where they would peruse the aisles looking at all the goodies imported from Italy.
His mother's name is Mafalda (a family name) and it was always fun to see "mafalda" (or "mafaldine" depending on how they were labeled) noodles on the shelves. Mafaldine are long & narrow with curly edges similar to a lasagna noodle. They were named in honor of Princess Mafalda of Savoy.
When menu testing began for Savory it was a given that this particular noodle - with that special family connection - would have to be included. A strong Italian culinary tradition in Stefen's family, a decade's worth of experience working in some of Chicagoland's most acclaimed Italian restaurants, and travels through Italy provided many ideas of how best to highlight mafaldine. Sometimes, simplest is best, and the decision was, "make Carbonara". Savory's version of it, anyway. Imported Prosciutto di Parma, Parmigiano Reggiano, roasted garlic and egg yolks are combined with the hot noodles. A rich, pleasantly salty & flavorful sauce is created by these ingredients and held by the curls of the pasta. The dish is topped with a bit of fresh cracked black pepper & freshly grated Parmigiano Reggiano then served piping hot to our guests.
Savory's Mafalda Carbonara is a hearty dish that fully embraces the idea of special memories, family & travel. Enjoy!
(Note to salt-sensitive guests: While there is no added salt in this dish there is natural saltiness from the imported Prosciutto di Parma & Parmigiano Reggiano.)
The Family Sauce
In many families there are recipes which are handed down from generation to generation. And more often than not this starts out with no written records. An oral sharing of family history. Such was the case with our hearty tomato & meat sauce. The joke had always been that the recipe either came from Stefen's Italian great-grandmother --- or maybe from an issue of Good Housekeeping in 1962. (Sometimes family history isn't as romantic as we like to think).
To clear things up a conversation was had with Stefen's mother and indeed the recipe truly is from Great-Grandma Mineconzo. Because the family was afraid it would be lost Stefen's Aunt Mary sat with Great-Grandma and recorded the recipe for posterity – and to this day the family fiercely protects it. Though, like all recipes, each generation changes it based on availability of ingredients or personal tastes. No matter what little changes happen along the way they've always honored the simplicity of using just the right ingredients - slowly simmering them to develop the deep flavors. Nothing says, "home" to Stefen more than the aroma of this sauce filling the kitchen.
Our San Marzano tomato sauce is hearty & spicy with plenty of garlic and oregano. Whether layered with our homemade noodles, fresh mozzarella & grated Parmigiano Reggiano as lasagna; or tossed with our homemade pappardelle noodles, the sauce is the epitome of "comfort food".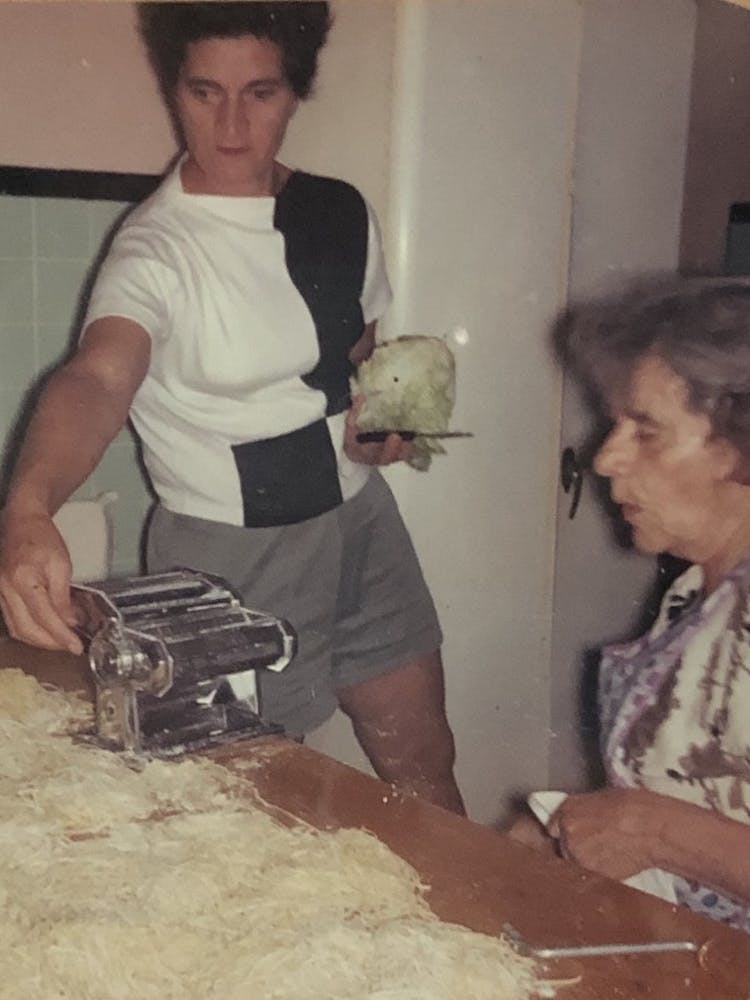 Stefen's Great-Grandma Mineconzo & Nana making pasta - circa 1972
Savory's Short Ribs
It all started with a dinner party celebrating the birthday of a dear friend. A world traveler who often reminisces about her visits to South Korea we decided to do add an Asian-inspired sticky ribs dish to the party menu.
Researching the dish - and its many variations - brought us to the foundation recipe of our version. We loved the dish so much that we kept on making it - developing the recipe further until we settled on how we serve them at Savory today.
Our house made five spice blend (including anise, Szechuan peppercorn & cinnamon) is combined with tamarind, fresh garlic, fresh ginger & date molasses along with a broth of aromatic vegetables; then slowly braised. The end result is fork tender short ribs with intense and complex flavors served with a reduction of the braising juices further intensifying the flavors.
We serve these ribs over our Sour Cream Mashed Potatoes which are loaded with butter, heavy cream, sour cream and grated Parmigiano Reggiano.
For the more adventurous diners amongst our guests our Short Ribs have been a hit (for those who are looking for a classic Continental-style Beef Bourguignon or the like this is definitely not the dish for them). "Subtlety be damned!"
Like so many of our dishes, they remind us of good times with good friends. Cheers to great memories & dear friends!
Hello Dollies!
Hello Dollies! Magic Cookie bars. Coconut Dream bars...so many names and variations of this classic treat exist. And all seem to have their roots in the mid-1960's American South.
Our version comes via Tennessee from Ron's mother. Every Christmas a tin of "Hello Dollies" would arrive fresh from her kitchen. Half would have pecans (for Stefen) and half would be without pecans (for Ron). After Stefen would finish his half he would start eyeing Ron's half...(Ron likes to spread his treats out over a longer period of time). This may - or may not - have worked for Ron since Stefen has minimal willpower.
Layers of graham cracker, chocolate, butterscotch and shredded coconut are melted together with our rich European-style butter and then chilled and cut into squares. The petite bars are rich, loaded with flavor and have a great combination of textures.
In many ways our Hello Dollies! are perfect to have on Savory's menu. They evoke a special person, a special time of year & a story that is near and dear to us. Hello Dollies! are a decadently satisfying sweet treat to end a meal - or to save for later. In fact, fully half of the orders of Hello Dollies! Savory sells to guests are taken "to go" for a late night or next day goodie. Yummy!
G.O.F.C.C. - Good Old Fashioned Chocolate Cake
Every now and then at home on a late Sunday morning the chocolate craving will hit and the answer is to make a classic chocolate layer cake. A slice of "good old fashioned chocolate cake" with a cup of coffee, tea or milk is the perfect way to satisfy those cravings. And, it's one of Stefen's favorite things to bake.
Over the next few days the cake will sit in its glass domed cake stand slowly dwindling away as little "tastes" and evening treats are enjoyed.
We always knew that this would be on our menu at Savory.
While in essence the recipe is fairly simple and straightforward (we're still not sharing it!) Stefen swears that it's all about the quality of cocoa and vanilla as the key to how special it is. Oh, and one uniquely "Savory" technique which ensures the rich, almost fudgy texture ;-)
With our tiny oven and minimal food storage we can't keep up production during the "high season" so guests and staff alike are happy to see the return of it to the menu in autumn.
Only one or two cakes are made at a time - and done so with love from organic flour, top quality vanilla and one of the best cocoas available to us. Enjoy a slice at the end of the meal or to take home for a treat. Our G.O.F.C.C. is special to us and we hope special to you.